ReadyBuddy™ Harness
Sale price Price $29.99 Regular price Unit price / per
Personalize your harness for your Buddy, also u can add phone number under dog's name! Get him ready for the walk in a lightning speed with adjustable harness and show other dogs that your Buddy is special!
The harness is breathable. Has reflective elements to help others see your dog at night.
No choke design provides even more comfort for your dog.
The name is Velcro, so you can easily take it off and put it on whenever you want!We offer free shipping. The standard waiting time for the shipment is 4-13 days.
GIVE YOUR DOG A FEELING OF COMFORT! 
NO CHOKE DESIGN
The ReadyBuddy™ design has been constructed so that the pressure of the harness on the dog is evenly distributed over the body, thus relieving the dog's neck during walks.

EASY ON
Get your dog ready for a walk in 3 seconds with the ReadyBuddy™ harness. Everything has been designed for the greatest possible comfort for you and your dog.

TOP HANDLE FOR BETTER CONTROL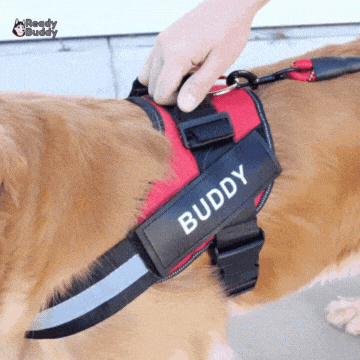 ReadyBuddy™ uses the top handle so you can have more control over your dog. When walking in tight spaces or interacting with other dogs, you can easily stay in control.


REFLECTIVE ELEMENT
Harness keeps your dog safe with reflective element. At night other cars can see your dog when you walk with him. This reduces the likelihood of a mishap!